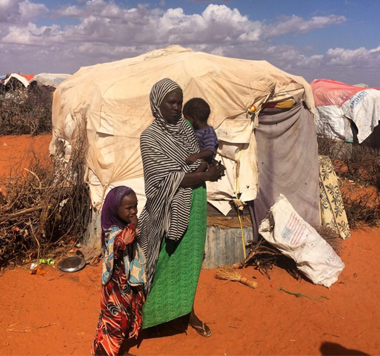 Visualizing the crisis in Somalia
Category | Story
The Agenda for Humanity calls for greater investment in data to help inform humanitarian decision-making in a number of strategic areas, including to increase reporting on violations of international humanitarian law, improve service delivery to minorities and vulnerable people in crises, strengthen preparedness, and help partners from different sectors set shared priorities in humanitarian response.
As a contribution to achieve these objectives, the United Nations Office for the Coordination of Humanitarian Affairs (UNOCHA) established the Centre for Humanitarian Data to increase the use and impact of data in informing decision-making in the humanitarian sector.
Somalia is facing a prolonged drought which has left 6.7 million people — more than half the population of the country – in need of humanitarian assistance. The situation continues to deteriorate and the possibility of famine in 2017 remains very real, despite an already massive scale-up of assistance.
The OCHA Somalia office approached the Humanitarian Data Exchange (HDX) team to develop a data visualization showing which organizations are distributing cash assistance across the country. The goal was to support partners in mapping their activities, and ultimately, strengthen coordination and enable faster decision-making. They also hoped to inform the general public about the ongoing response to the drought crisis.
Thanks to the data shared by partners, an interactive data visualization of who is doing what and where in cash-based assistance at the district level is now available. The data and visualization will be updated on a monthly basis. Read more about the data visualization on the Centre for Humanitarian Data blog.
Lead photo: A family displaced by the drought in Haar-Haar IDP settlement in Gaalkacyo, central Somalia. Women and children represent 84 per cent of the drought-displaced population since November 2016, according to UNHCR. Credit: Jordi Casafont Torra