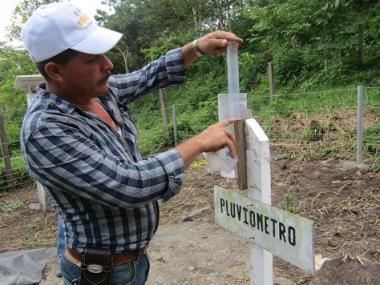 When drought hits, climate monitoring helps communities become resilient in Central America
Category | Story
Christian Aid and its local partners in Central America (Nicaragua, Honduras, El Salvador and Guatemala) are helping communities to monitor the weather. This is part of our work to contribute to the Agenda for Humanity transformation area to 'Change people's lives: From delivering aid to ending need', especially the commitment to 'anticipate and do not wait for crises'.
Community-based climate monitoring is at the heart of Christian Aid's climate change adaptation strategy to help farmers severely impacted by drought. The countries in the region, located in what is known as the dry corridor, were hard hit by consecutive dry years. First in 2014, and then from May 2015 to May 2016 by severe drought caused by El Niño South Oscillation (ENSO).
Weather monitoring helps farmers to make the right decisions
In response to the climatic challenges in Nicaragua, 66 weather stations were installed in 66 communities. The weather stations allow small-scale farmers to monitor rainfall and temperature helping farmers to make decisions about their crops. Farmers found that the weather stations helped them to decide on the best time to plant, the optimal time to apply fertilizers, and to select which food crops varieties and seeds to plant. These were some of the benefits reported by the farmers for the cropping season in 2015 following the installation of the weather stations.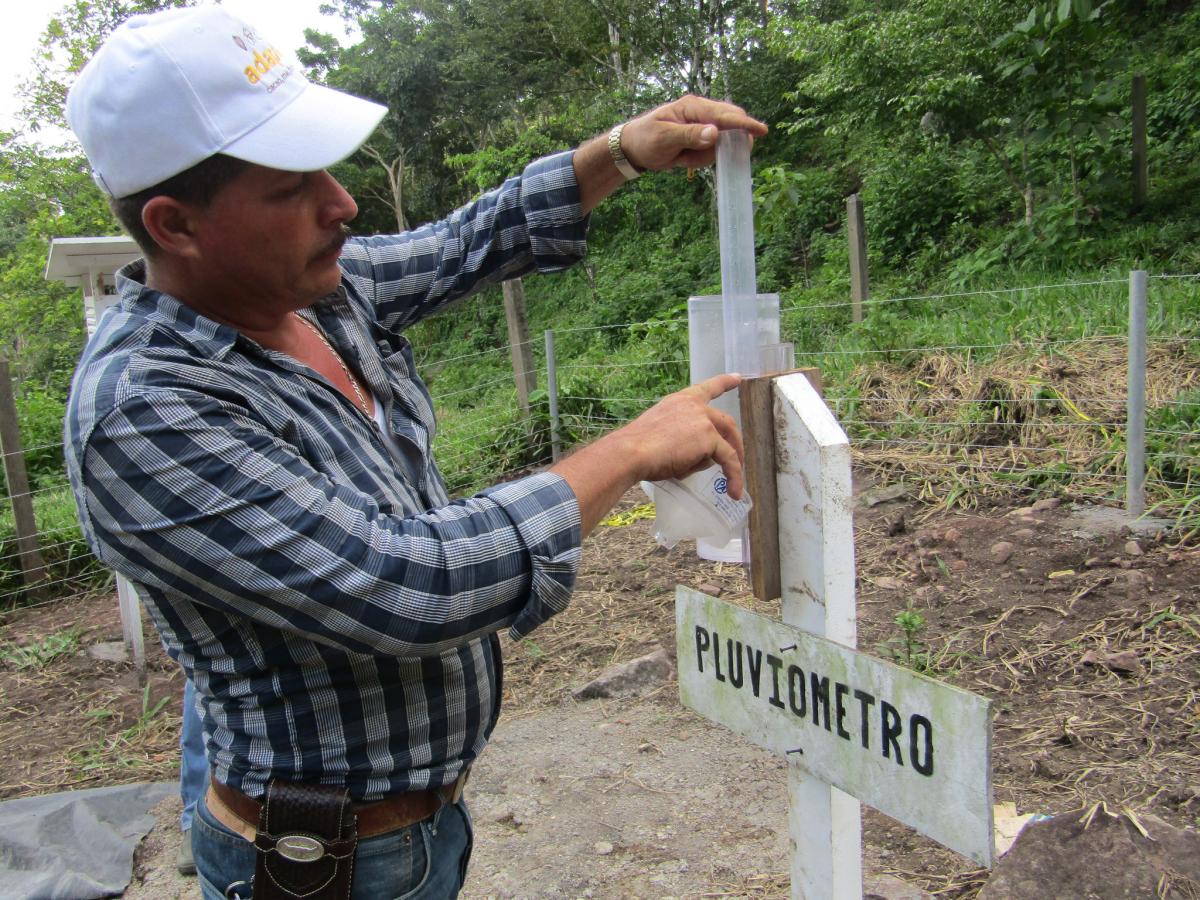 Ruben is a beneficiary of the 'Adapta' project which is financed by the IADB/FOMIN/NDF, Ingemann and Christian Aid in partnership with Centro Humboldt
"The weather stations help us to see clearly which crops can be affected and how. We will be able to predict the weather each year and tackle the increasing needs we have with the weather challenges that we are facing", said Ruben.
As part of the project, farmers attend training workshops to help to them interpret rainfall data. The training has allowed a community in Matagalpa in the municipality of San Dionisio to share rain data with other farmers in their community and technicians from the municipality, as well as NGOs, and the National Institute of Agricultural Technology, all of whom are highly interested in bringing the information to other communities in the municipality.
Data helps to warn against potential threats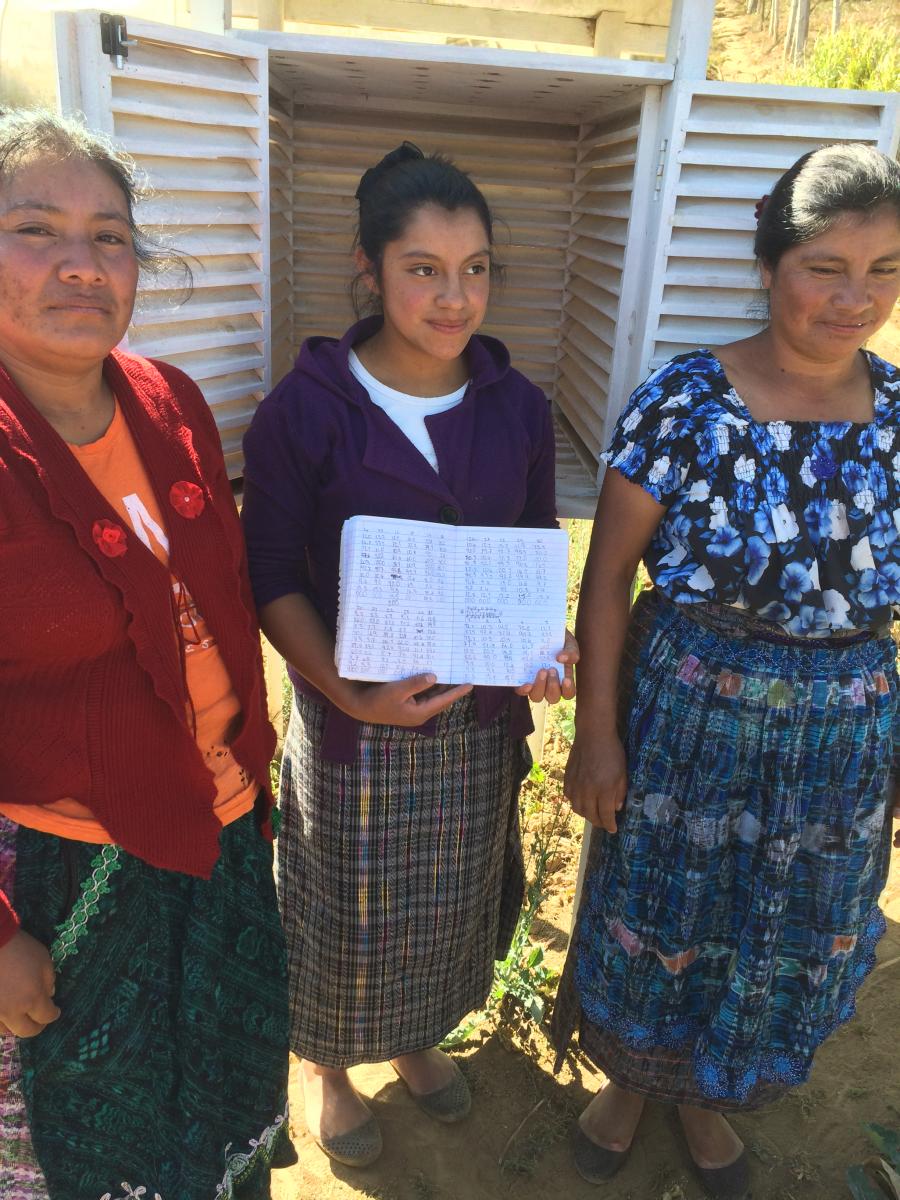 In Guatemala, Evelyn Barrera (centre) and her mother Verónica Ramírez (right), are registering rainfall, temperature and humidity data in the indigenous community of San Antonio, Sololá, Guatemala. Mother and daughter received training from Christian Aid partners on data collection, analysis and weather station maintenance. They exchange weather information with small-scale farmers from their community and the local Community Development Commission where Verónica is an active member. They have been warning of potential rain and erosion. They registered a single precipitation event of 55 mm which caused soil erosion and run-off in August 2016. The local partner NGO will train farmers on soil conservation practices as a measure to avoid soil loss, a major resource for food production in this region of Guatemala.
Despite the severe El Nino-related drought, the farmers who directly benefitted from the Christian Aid's resilience work received early warning 2 months earlier and achieved maize yields only slightly below a "normal" year and 73% higher than those farmers only supported indirectly. This provides encouraging evidence that the climate monitoring work is helping communities to anticipate before crises hit them.