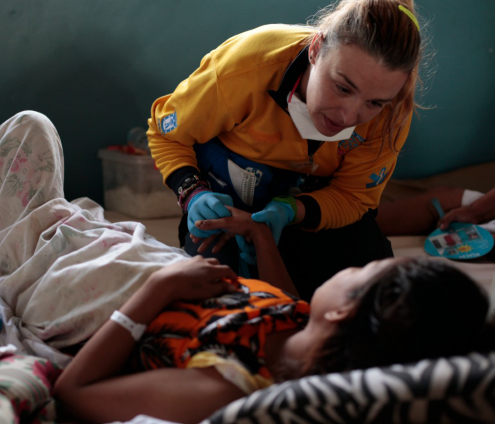 Speaking out: tackling sexual violence against aid workers
Category | Story
In the margins of the International Day of Women, United Nations Secretary-General António Guterres has launched his report on "Special measures for protection from sexual exploitation and abuse: a new approach".
"Such acts of cruelty should never take place. Certainly no person serving with the United Nations in any capacity should be associated with such vile and vicious crimes," said Mr. Guterres in a message announcing his report released today on the issue.The report outlines a victim-centred strategic approach to prevent and respond to such abuses committed by those serving under the UN flag.
But what happens when the sexual violence is committed against those men and women working in human rights or humanitarian affairs, development or peacekeeping?
As one of the first Agenda for Humanity (A4H) stakeholders to self-report on the commitments made at the World Humanitarian Summit, the NGO Report the Abuse (RTA) adamantly advocates for a global agenda to end sexual violence against humanitarian workers.
Implementing the A4H transformations to "Speak out on violations" as well as "Take concrete steps to improve compliance and accountability", Report the Abuse's approach to addressing sexual violence against, but also within the humanitarian community, is holistic and covers tackling stigma. It encourages reporting where safe and desirable for survivors, improving response strategies, and providing resources to support survivors. Through a combination of advocacy, research, and technical support, Report the Abuse continues to work to create sustained change on the issue, in collaboration with humanitarian organisations and sexual violence survivors. This includes the development of the first good practices to address the issue of sexual violence experienced by humanitarian aid workers.
The goal is clear: to develop and promote survivor-centred organisational policies and mechanisms that tackle sexual violence and stigma against humanitarian workers.
"Together we can protect everyone from gender-based violence" said Megan Nobert, RTA's Founder, "whether he or she is working to support a humanitarian crisis or whether they are affected by it".